Our company can supply the production technology (Know-How) and complete set of equipment for plasterboard.
Annual capacity: 2~25 million m2
Specification: (2400~3600)x1200x9.5 or 12.5mm3
The product quality is in conformity with Chinese standard GB9775-88.
The company can also supply the technical service, such as engineering design, civil engineering design, erection/erection supervision, personnel training, heating-up, commissioning and other service after sale.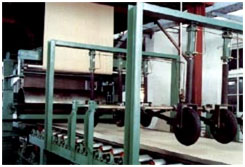 Forming section of plasterboard product